Thailand is a very exotic country. For my first time in Asia, the fact that I had winter at home and summer in Thailand was overwhelming.
As I always advise: the key to the best travel is getting informed. Research and inform yourself in advance about the best sights, ways of transportation, food and local rules. For example, a strange thing seemed to me the fact that at 18:00 sharp the national hymn is heard around in the city center right on the streets, and the city freezes. People dignely hear the hymn, not even moving. Second interesting thing is - bargaining is the rule for tourists in Thailand. You have to bargain for a travel with tuk-tuk, buying souvenirs, flowers, fruits… mainly everything. The city is very big, and with huge traffic jams. Though the Thai authorities tried to improve the situation building an underground, sky train and BTS, cars, taxis, tuk-tuks and motorcycles which are also used as taxis, they are all over-charging the city. Such big traffic jams I never saw anywhere so far. Google says Bangkok is the 5th city in the world dealing with it.
Many cities have flower markets, but what I saw in Bangkok was different. It is an interesting place even for those who do not love flowers. Prices and amazingly cheap and the images of hundreds of fresh cut orchids bunches is impressing. The industry of yellow flowers is very developped as it is dirrectly connected with religion. Every day, Thai people buy fresh yellow flowers and deposit it near a Buddha statute, or in their car, in their working place... as a sign of respect and gratitude to Buddha.
4. The Chatuchak Weekend Market is one of the world's largest weekend markets covering area of 70 rai altogether divided into 27 Sections, contains more than 15,000 booths selling goods from every part of Thailand. It is enourmous and the perfect place for finding interesting authentic things. It is also the cheapest market very accessible to tourists. Vendors come from local factories, like antique wood carving, clay handicrafts, local souvenirs from every parts of Thailand, Buddhist amulets, wooden funitures, hand made decorated flowers, plant, ceramic wares, dools, Thai Bejarong, Chinese wares, plants, stones, textiles and silk, outfits and even animals. Of course, lot of food also. A day is needed to visit.
They say food is delicious in Thailand. However, I was quite disgusted about the way Thai people cook and eat in the streets. Street food is at every 2 meters and local people eat a lot directly in the streets. No hygiene at all. Definitely go for fresh fruits which are delicious and hydrate yourself with fresh coconuts. As Thailand is the biggest exporter of shrimps, I mostly ate them in any way possible; outside the city there are many places where you can observe how they grow shrimps directly from the road. Shop at local markets for vegetables and fresh fish and better cook at your rented apartment (I was lucky to live at my friend's house). In the restaurants for tourists, the food tastes not so strange and spicy, but prices are high. Generally speaking, Bangkok is a city of clearly traced contrasts: very poor people and the extremely rich layer. Just go for a walk in the commercial center to see how people shop Louis Vuitton, Chanel or Valentino.
Back to the food discussion, I advise to surpass your disgust and try at least once the Thai food with spicy soups and black rice. Black wild rice is considered very healthy and is more expensive than the usual white one, it is worth trying.
Sausages dirrectly on the street on that heat!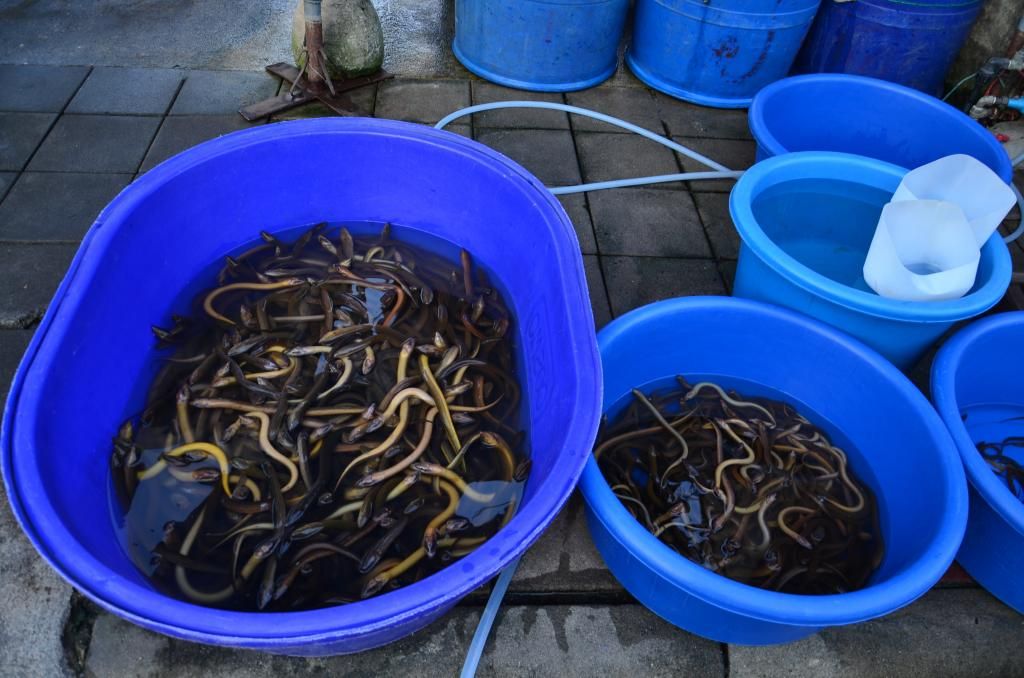 Some snakes for dinner?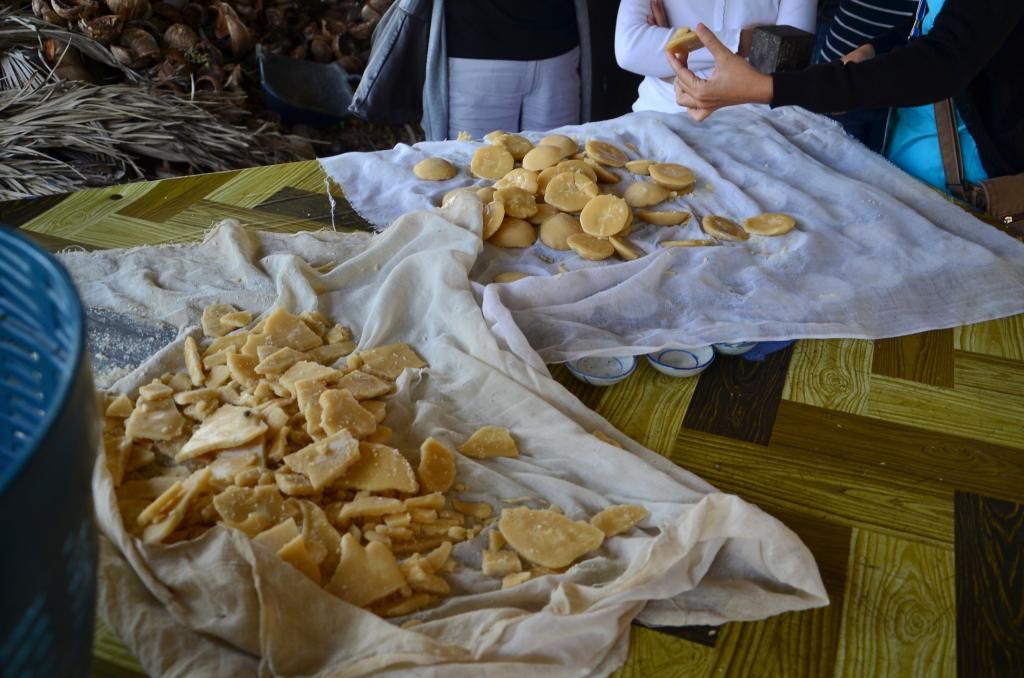 Coconut sugar
here
,
here
and
here
.